View elegant early spring plum blossoms in Japan
Plum blossoms are deeply rooted in Japanese aesthetics. Simple and elegant rather than showy, they are hardy enough to withstand the winter cold. In the traditional Japanese floral language (hanakotoba), plum blossoms are characterized as loyal, virtuous, patient, decisive and clean.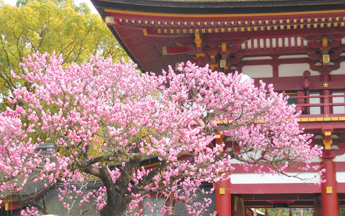 It is said that when nobleman Sugawara Michizane was banished from Japan's capital in the 9th century, his beloved plum tree flew all the way to his new home in Kyushu. This legend may explain why plum trees came to symbolize loyalty in Japanese floral language.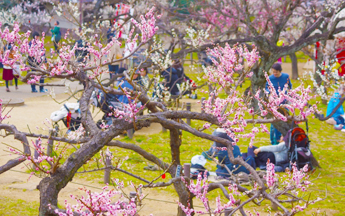 Among the many famous plum blossom viewing spots in Japan, one of the most popular is Dazaifu Tenmangu Shrine in Fukuoka, where Sugawara Michizane is enshrined. His sacred plum tree is also there, from which cuttings were planted in various locations including Yushima Tenmangu Shrine near Asakusa in Tokyo.



Other famous plum blossom viewing spots include two in Yokohama – the traditional Japanese Sankeien Garden where about 600 plum trees bloom, and Okurayama Park with 200 or so plum trees of 32 varieties.

The best time to enjoy plum blossom viewing in Japan is between the middle of February and beginning of March.

| | |
| --- | --- |
| | |
■ Canal City Fukuoka Washington Hotel
For details, visit: https://fukuoka.washington-hotels.jp/

■ Hotel Gracery Asakusa (Tokyo)
For details, visit: https://asakusa.gracery.com/

■ Yokohama Sakuragicho Washington Hotel
For details, visit: https://yokohama-i.washington-hotels.jp/

■ Yokohama Isezakicho Washington Hotel
For details, visit: https://yokohama-i.washington-hotels.jp/
View elegant early spring plum blossoms in Japan