Spin your way to good luck in Nagasaki this New Year holiday
During the New Year holiday season, Japanese traditionally play with spinning tops (koma) that are said to bestow good luck by making money flow and things run smoothly. Koma originally came from China in the 6th century and were eventually designed differently in each region of Japan.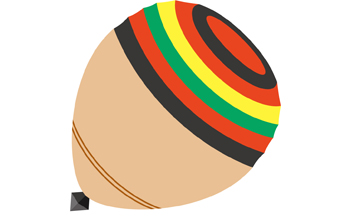 Among the most famous of Japan's regional tops are Sasebo koma from Sasebo City in Nagasaki Prefecture. These are famous for their distinctive acorn shape and feature colored stripes influenced by Chinese Five Elements Philosophy (Wu Xing). Players vigorously spin Sasebo koma by string while energetically shouting and then watch the "battling" tops smash against each other until the last top standing is declared the winner. Although used like Beyblades, Sasebo koma are a traditional Nagasaki craft handmade by skilled artisans and serve as decorations as well as toys.

Why not visit Nagasaki Prefecture this New Year holiday and spin your way to good luck? The Fujita Kanko Group offers Washington Hotel facilities in Sasebo City and Nagasaki City, as well as a new Nordisk Village glamping site in the neighboring Goto Islands, which were recently designated a World Heritage Site as Hidden Christian Sites in the Nagasaki Region.
| | |
| --- | --- |
| | |
■ Nordisk Village Goto Islands
For details, visit: http://www.nordiskvillage.jp/en/index.html
■ Nagasaki Washington Hotel
For details, visit: http://nagasaki.washington-hotels.jp/
■ Sasebo Washington Hotel
For details, visit: http://sasebo.washington-hotels.jp/
Spin your way to good luck in Nagasaki this New Year holiday