The season of dancing fireflies is arriving
Firefly watching has been popular in Japan since ancient times and is a familiar scene in early summer, with dancing fireflies sketching faint and graceful circles of light.

The word "firefly" first appeared in the Nihon Shoki (Chronicles of Japan) around 720 A.D., when firefly watching was mainly enjoyed by nobles before spreading to the masses and becoming part of Japanese culture.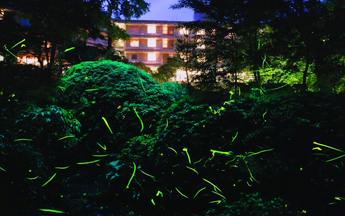 The most common fireflies in Japan are Genji (Luciola cruciata) and Heike (Luciola lateralis) fireflies that slowly blink with a faint light. Their ephemeral glow is almost magical and has moved artists throughout the ages to praise them in literature and song.

Guests at Hotel Chinsanzo Tokyo, Taiko-en and Hakone Hotel Kowaki-en can enjoy watching abundant fireflies bred in the clear air and water of the beautiful gardens. Watch them dance through the gardens in the magical night to your heart's content!


■Hotel Chinzanso Tokyo
For details, visit: http://www.hotel-chinzanso-tokyo.com
■Taiko-en (Osaka)
For details, visit: https://www.taiko-en.com/e/
■Hakone Hotel Kowaki-en
For details, visit: http://www.hakoneho-kowakien.com/en/
The season of dancing fireflies is arriving