Rake in the good luck at Tori no Ichi festivals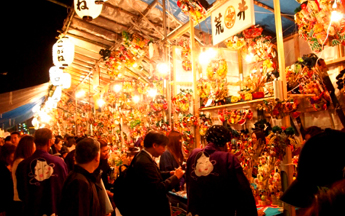 In November, various shrines in the greater Tokyo area celebrate Tori no Ichi (rooster market) festivals two or three times on Rooster Days. In 2018, these days will fall on November 1st, 13th and 25th in accordance with the old lunar calendar. The most popular shrines for celebrating Tori no Ichi are Ohtori Shrine in Asakusa and Hanazono Shrine in Shinjuku where hundreds of thousands of people flock to purchase auspicious rakes for good luck and business success.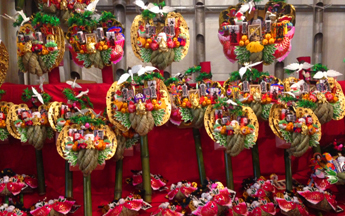 The rakes are adorned with various lucky items including paper charms, beckoning cat figurines and decorations that look like gold coins, ears of rice, rice bales, etc. Some rakes also include images of popular anime characters. The rakes are said to gather good luck much like eagle claws seize prey. Individuals visiting the shrines tend to buy small rakes, while businesses purchase rakes sometimes exceeding a meter in height. Upon making a purchase, it is customary to clap one's hands enthusiastically in a ceremonial style.
There are numerous colorful attractions toward the end of the year in Tokyo. When you visit Tokyo to experience the vibrant Japanese culture, make your trip extra special by staying at Fujita Kanko Group facilities.

Fujita Kanko Group facilities in Tokyo

■ Hotel Gracery Asakusa
For details, visit: http://asakusa.gracery.com/
■ Hotel Gracery Shinjuku
For details, visit: http://shinjuku.gracery.com/
■ Shinjuku Washington Hotel Main Building
For details, visit: http://shinjuku.washington-hotels.jp/main-building
■ Shinjuku Washington Hotel Annex Building
For details, visit: http://shinjuku.washington-hotels.jp/annex-building
■ Hotel Gracery Ginza
For details, visit: http://ginza.gracery.com/
■ Akihabara Washington Hotel
For details, visit: http://akihabara.washington-hotels.jp/
Rake in the good luck at Tori no Ichi festivals