What powers sumo wrestlers? Chanko Nabe.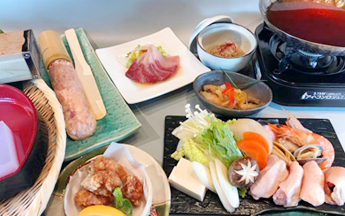 January 13 marked the first day of the first 2019 Sumo Grand Tournament, which was held at the Ryogoku Kokugikan arena in Tokyo.

Sumo is an intense sport demanding a well-balanced diet that traditionally consists largely of ingredient-packed Chanko Nabe stew. The word "chanko" was originally slang for cooks at sumo stables and "nabe" is what Japanese call almost any hot pot dish.



Chanko Nabe is typically chock-full of chicken for symbolic, as well as nutritional, reasons. Since sumo wrestlers must avoid touching the ground with their hands during matches, chickens, which walk on two legs, are said to bring them good luck. Chicken meatballs are especially auspicious because they resemble white sumo tournament victory symbols.

In January, enjoy special Chanko Nabe with chicken meatballs formed at the table from bamboo – at Japanese restaurant ORIGAMI Asakusa, a fine Fujita Kanko Group restaurant serving authentic Japanese cuisine made from Halal-certified ingredients. Delicious shabu-shabu and wagyu steak are also on the menu.

| | |
| --- | --- |
| | |

■ Japanese restaurant ORIGAMI Asakusa (Tokyo)
For details, visit: https://www.origami-asakusa.jp/en/
What powers sumo wrestlers? Chanko Nabe.