Osechi: The cuisine that colors Japanese New Year
Traditional foods are an essential part of the Japanese New Year. Stacked in beautifully decorated boxes are a wide variety of traditional osechi foods with auspicious meanings. Red and white pickles and kamaboko (boiled fish paste), for example, symbolize celebrations, while herring roe represents fertility and shrimp signifies longevity.


Osechi originated from the ancient Chinese tradition of preparing food offerings in thanks for the harvest when seasons changed. Japanese nobles later enjoyed osechi at celebrations, and samurai served osechi as a special dish for visitors. In modern times, osechi became New Year's food widely enjoyed by the general public.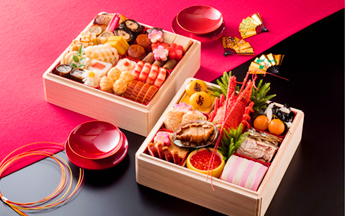 As Japanese food culture evolved, osechi gradually included more ingredients from the sea, mountains and other cultures like China and the West.

If you happen to be in Japan on New Year's Day, enjoy special osechi dishes at WHG Hotels or a New Year's buffet with osechi at Hotel Chinzanso Tokyo and Taikoen.

| | |
| --- | --- |
| | |
■ Hotel Chinzanso Tokyo
For details, visit: https://www.hotel-chinzanso-tokyo.com/

■ Taikoen (Osaka)
For details, visit: https://www.taiko-en.com/e/

■ WHG Hotels
For details, visit: https://en.whg-hotels.jp/
Osechi: The cuisine that colors Japanese New Year