Kishiwada Danjiri Festival – for the brave at heart.
Huge wooden Danjiri carts, pulled by about 500 shouting participants each, race through the streets of Kishiwada City in Osaka Prefecture every September. This boisterous event known as the Kishiwada Danjiri Festival was originally an Inari festival held to pray for a good harvest about 300 years ago. This year, it takes place on September 14 and 15.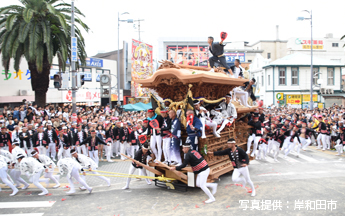 Renowned throughout Japan for its courageous participants, this festival attracts over 600,000 spectators every year. The highlight comes when the huge 4-meter tall, 4-ton wooden carts – made of expensive, exquisitely sculptured zelkova wood – make turns at high speed requiring masterful braking and steering techniques.



The raucous daytime racing is followed by elegant parades illuminated by lanterns at night. This stark contrast in emotional and cultural qualities makes the Kishiwada Danjiri Festival one of Japan's must-see events.

Summers and Septembers are eventful in Osaka, with many engaging events and festivals. When sightseeing in Osaka at this time, make your visit extra special by staying at one of our group hotels.

| | |
| --- | --- |
| | |
■ Kansai Airport Washington Hotel (Osaka)
For details, visit: https://kansai-ap.washington-hotels.jp/

■ Hotel Gracery Osaka Namba
For details, visit: https://namba.gracery.com/
Kishiwada Danjiri Festival – for the brave at heart.