Good luck plums bud in the New Year and blossom in spring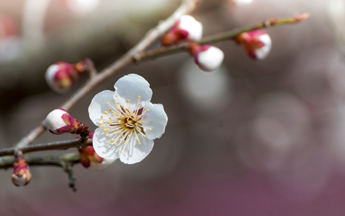 Round buds start emerging from the branches of plum trees around New Year's and are cherished as symbols of good luck. When they finally bloom, before those of other flowering trees, they symbolize the arrival of spring for Japanese. This love of plum trees has been exported abroad, where many people now raise plum bonsai.

Everyone knows that Japanese enjoy cherry blossom viewing in the spring. But in the 8th century, it was plum blossoms that drew the crowds, including nobles who composed lovely poems about the blossoms.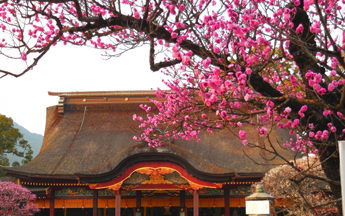 The beautiful colors and fragrance of plum blossoms have always captivated artists. Utagawa Hiroshige, the famed ukiyo-e artist, made plum blossoms one of his themes and inspired similar images from van Gogh. Of course, Japanese plum fruit is also widely enjoyed pickled, in liqueurs, jams and more.

Plum trees bloom from early February to early March throughout Japan. Some of the most famous places to view them are in Dazaifu (Fukuoka), Osaka Castle Park (Osaka) and Okurayama Park (Yokohama).
To fully enjoy the beauty of early spring, why not stay at Fujita Kanko facilities near some of the best plum blossom viewing spots throughout Japan.
■ Canal City Fukuoka Washington Hotel
For details, visit: http://fukuoka.washington-hotels.jp/

■ Kansai Airport Washington Hotel (Osaka)
For details, visit: http://kansai-ap.washington-hotels.jp/

■ Yokohama Sakuragicho Washington Hotel
For details, visit: http://yokohama-s.washington-hotels.jp/

■ Yokohama Isezakicho Washington Hotel
For details, visit: http://yokohama-i.washington-hotels.jp/
Good luck plums bud in the New Year and blossom in spring