Fujita Kanko Implements New Environmental Hygiene Policies in Response to COVID-19
Company Assigns "Environmental Hygiene Supervisor" to Each of its Facilities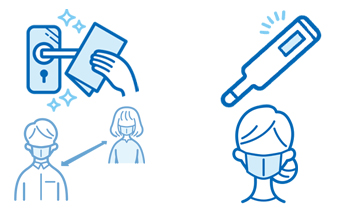 May 21, 2020, TOKYO - Fujita Kanko Inc. is implementing strict hygiene policies at its facilities in response to COVID-19. These new environmental health policies include procedures for guest service with social distancing, and stricter cleanliness protocols at all the company's properties.

In order to ensure the safety of its staff and customers, Fujita Kanko has established a "COVID-19 Response Office" as a permanent entity directly controlled by the company president, Mr. Yoshihiro Ise. This will enable quick decision making and thorough implementation of the new policies company wide. In addition, new Environmental Hygiene Supervisors will be properly trained and assigned to each company facility by September. Fujita Kanko's SDGs (Sustainable Development Goals) Promotion Team, in charge of internal audits, will monitor the execution of these environmental hygiene policies.

Fujita Kanko employees already hold cleanliness as a core principle, closely monitoring employee health and hygiene, and in particular food preparation. In late January in response to COVID-19, the company began placing hand sanitizer stations in hotel entrances, by front desks, and in elevator lobbies, in addition to thoroughly disinfecting the buildings and ensuring proper ventilation. Staff also check guests' current health condition.

Staff and guest safety are also of paramount importance, and while Fujita Kanko has always held staff trainings to prepare for emergency situations, the company wants its new health and safety measures to be visible. To manage risk and prevent coronavirus transmission, the company aims to reduce human contact, maintain social distancing, and improve ventilation in enclosed spaces. Looking forward to the "new normal" after the pandemic, Fujita Kanko intends to maintain a higher level of hygiene, by leveraging the latest technologies such as cashless transactions and automated check-in/check-out.

Fujita Kanko Group Measures for Environmental Hygiene

Policies
• Fujita Kanko Group is committed to providing high quality services and clean, hygiene-conscious facilities that ensure customer confidence by holistically managing environmental hygiene throughout its business units.

Measures
• As part of Fujita Kanko Group's commitment to environmental hygiene, we will continually review and update the measures below by evaluating what is effective.

1) We will provide a safe environment by cleaning, disinfecting, and ventilating common areas with increased frequency [Already in Practice].

2) When cleaning and disinfecting guest rooms, we will pay particular attention to places/objects most likely touched by guests such as electrical switches, chairs, door knobs, drawer handles, and remote controls [Already in Practice]. We will place signs to indicate when cleaning and disinfecting is complete.

3) We will increase the availability of cashless transactions and reduce paper materials such as information booklets placed in guest rooms, check-in forms, receipts, and meal vouchers, digitizing where possible.

4) We will reevaluate and make changes to our operation of restaurants and banquet halls by adjusting table positions and the number of seats, changing paper menus to digital ones, disinfecting condiment sets, and avoiding presetting tables.

5) We will reopen buffet services after establishing new standards for food preparation and service, table and seat arrangement, and the number of allowed guests.

6) To maintain social distancing, we will provide more space in our locations by removing certain furniture, placing signage, and setting up stanchions & rope [Already in Practice].

7) We will take various measures to reduce and avoid physical contact with our guests such as placing transparent shields at front desks [Already in Practice], and leaving room service orders in front of guests' doors.

8) We will update our facilities so that guests can minimize contact with various surfaces and objects by utilizing smart phone apps and digital technologies for check-in/check-out, room door opening/closing, etc.

9) In our bridal business, we will utilize online reservations and meetings as much as possible to reduce human contact.

10) We will continue implementing the newest technologies such as disinfecting robots to maintain a clean and safe environment and will expand the installation of negative ion generators, which are already placed at some of our properties.
Fujita Kanko Implements New Environmental Hygiene Policies in Response to COVID-19