Fall for the seasonal beauty of Japan
Japan is full of stunning places to visit in the fall. When colorful foliage vibrantly paints the landscape, many people from around the world flock to places like Kyoto, Nara and Hiroshima where ancient temples and other historic buildings beautifully synergize with the red, yellow and orange leaves.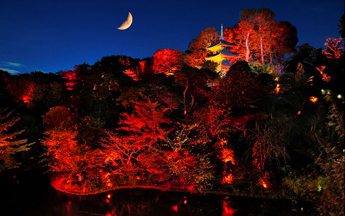 Autumn is also the season of whetted appetites and delicious foods such as Pacific saury, chestnuts, mushrooms and various fruits. Japanese associate autumn with reading, sports and art because the pleasant weather encourages such activities. Numerous events are also held throughout the season, including exhibitions, athletic competitions and cultural festivities.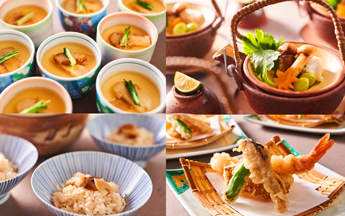 Enjoy the fruits of Japan's harvest season at Hotel Chinzanso Tokyo or Taikoen, where Fujita Kanko Group's special buffet of delicious seasonal ingredients is sure to satisfy your autumn appetite.
■ Hotel Chinzanso Tokyo
For details, visit: http://www.hotel-chinzanso-tokyo.com/
■ Taikoen (Osaka)
For details, visit: https://www.taiko-en.com/e/
■ Hiroshima Washington Hotel
For details, visit: http://hiroshima.washington-hotels.jp/
■ Hotel Gracery Kyoto Sanjo
For details, visit: http://kyoto.gracery.com/
■ Hotel Fujita Nara
For details, visit: http://en.fujita-nara.com/
Fall for the seasonal beauty of Japan