Experience the excitement of traditional sumo
Japan's Grand Sumo Tournament dates back to the early 17th century in the Edo period. It continues to rise in popularity, especially among young women in Japan who see the wrestlers as TV stars as well as athletes. Sumo's popularity was recently boosted by the selection of a new Yokozuna (champion) and Ozeki (second highest rank). Even abroad, its popularity is spreading due to the success of foreign sumo wrestlers in Japan.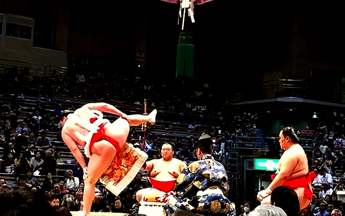 Six official sumo tournaments (honbasho) are held annually throughout Japan and fans can still attend the September (Tokyo), November (Fukuoka) and January (Tokyo) tournaments this season. While reserving a honbasho ticket is becoming increasingly difficult, we highly recommend experiencing a tournament live to feel the excitement and appreciate the formal tradition. If you can't attend a honbasho, you can chose from many regional tours all over Japan. Don't miss the opportunity to attend one if you can.
Sumo arenas
■ The Ryogoku Kokugikan (Tokyo)
For details, visit: http://www.sumo.or.jp/En/
■ Fukuoka Kokusai Center
For details, visit: http://www.marinemesse.or.jp/eng/kokusai/
Recommended hotels
■ Akihabara Washington Hotel (Tokyo)
For details, visit: http://akihabara.washington-hotels.jp/
■ Hotel Gracery Ginza (Tokyo)
For details, visit: http://ginza.gracery.com/
■ Canal City Fukuoka Washington Hotel
For details, visit: http://fukuoka.washington-hotels.jp/
Experience the excitement of traditional sumo