Don't miss Hinamatsuri festival on March 3
Hinamatsuri (Doll Festival) is one of five annual events held to celebrate changing seasons in Japan.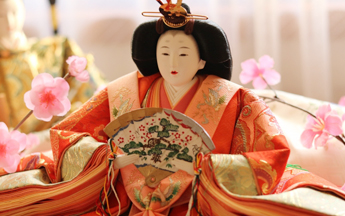 Also known as the Peach Festival, Hinamatsuri is celebrated on March 3 by displaying ornamental hina dolls, colorful diamond-shaped rice cakes and white sake. Many families also celebrate by eating chirashi sushi and clam soup, which are said to enhance the growth and well-being of girls.

The festival evolved from nagashi-hina, a fading custom practiced by few communities today, in which paper dolls are floated down rivers and oceans to drive bad spirits away.
Hina doll design tends to vary by region and one of the best known local designs is the dangling hina doll of Inatori, a seaside town in Izu, Shizuoka. Around 10,000 dangling dolls are decorated there every year for a local spring festival and then exhibited at various events until the end of March.

Ito Kowaki-en and Ito Ryokuyu inns are only about 1 hour by train from Inatori and provide luxurious hot spring baths fed by renowned Ito Onsen hot spring. Why not enjoy a relaxing stay after your Hinamatsuri experience in Inatori!
■ Ito Kowaki-en
For details, visit: http://en.ito-kowakien.com/
■ Ito Ryokuyu
For details, visit: http://ito-ryokuyu.com/english/index.html
Don't miss Hinamatsuri festival on March 3