Celebrate Children's Day in Japan on May 5
Children's Day (Tango no Sekku) was originally a seasonal festival for boys celebrated throughout Japan by hanging sweet flag leaves under eaves or placing them in baths to promote young boys' health.

Today, the day is largely celebrated for the birth and healthy growth of boys by flying carp flags outdoors and displaying brave looking dolls in armor, helmets and swords, since the day is also known as Shobu no Sekku ("shobu" means both "sweet flag" and "respect for martial arts").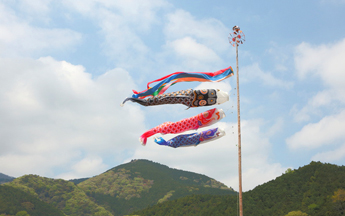 On the first Children's Day following a boy's birth, many families also eat steamed rice cakes wrapped in sasa bamboo leaves for health, or rice cakes wrapped in Japanese emperor oak leaves to wish for a prosperous future.

In Kyoto, many long-established specialty stores accommodate these various customs. There are also many shops selling warrior dolls for boys in Asakusa, Tokyo. If you visit Japan this spring, why not stay at one of our hotels and do some Children's Day window shopping.
■ Hotel Gracery Ginza (Tokyo)
For details, visit: http://ginza.gracery.com/

■ Akihabara Washington Hotel(Tokyo)
For details, visit: http://akihabara.washington-hotels.jp/

■ Hotel Gracery Kyoto Sanjo
For details, visit: http://kyoto.gracery.com/
Celebrate Children's Day in Japan on May 5